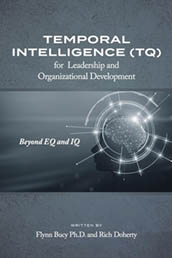 Title: Temporal Intelligence (TQ): for Leadership and Organizational Development
Authors: Flynn Bucy Ph.D., Rich Doherty
Amazon Link: https://www.amazon.com/Temporal-Intelligence-Leadership-Organizational-Development/dp/1956065148/ref=tmm_pap_swatch_0?_encoding=UTF8&qid=1700163190&sr=8-1
Synopsis:
TEMPORAL INTELLIGENCE (TQ) – EXPLORING A NEW CONCEPT IN ORGANIZING OUR THOUGHTS AND PROCESSES Washington, D.C. and Seattle, WA: TEMPORAL INTELLIGENCE (TQ) for Leadership and Organizational Development, by business consultants Dr. Flynn Bucy and Dr. Rich Doherty, goes beyond the popular EQ (Emotional Intelligence) and measurable IQ (Intelligence Quotient) to demonstrate the importance of recognizing and analyzing our use of time in our daily lives. This initial volume focuses on corporate structure, recognizing the decades of research by the renowned Canadian psychoanalyst Elliott Jaques, who studied and documented how time is a critical element to high-performance leaders and organizations. Both Dr. Bucy and Dr. Doherty have successfully guided corporate leaders for decades and case studies here give clear examples of how analysis of time frames – covering, in depth, intention, expectations, capacity, complexity — has brought new understanding and ultimate success in completion of projects. Discovering, refining, and leveraging one's temporal intelligence is an essential asset that applies in a wide variety of situations. This book is a treasure trove of unique, practical, and valuable concepts about time and our multiple, but perhaps not considered, temporal skills that can be assessed, coordinated and improved. Self-awareness of one's own time frames, awareness of others' time frames, and the ability to sync with the time frames of others, are explained with great clarity and useful direction. TQ concepts are used to acknowledge and face common challenges in time frames, then offering leaders a roadmap for personal and professional development.
Title: Destined to Be a Hamilton: True Life Stories of Mary Anne Hamilton, Great-Great Granddaughter-in-Law of Founding Father Alexander Hamilton
Author: Mary Anne Hamilton, Helena Reynolds
Amazon link: https://www.amazon.com/Destined-Hamilton-Great-Great-Granddaughter-Law/dp/B0CGYVW8TS/ref=tmm_pap_swatch_0?_encoding=UTF8&qid=1700535216&sr=1-1
Synopsis:
Mary Anne Clark is a 31-year-old struggling waitress and soon-to-be-divorced mother of five. She serves 65-year-old Laurens Morgan Hamilton, heir to J. P. Morgan and Founding Father Alexander Hamilton. He returns the next day—her day off—to announce he's going to marry her. When informed by her patrons, Mary Anne is appalled. She tries to dissuade him, but Laurens is undeterred. He courts her and her five children, showering them with lavish gifts and extravagant trips. But are his intentions honorable? Enjoy this entertaining and inspiring true story, offering surprises and challenges, elation and sorrows, and historical impacts. Appreciate over 70 photos, most in color, posted adjacent to their related stories. Marvel at the 90 facts—many previously unknown—about Alexander Hamilton's amazing life and contributions to our great nation. Discover how an unprecedented global phenomenon—when Mary Anne is in her 80s—creates an unexpected purpose for life.